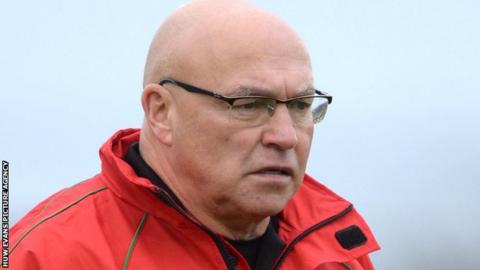 Wales head coach John Kear says qualifying for the World Cup would be "massive" and give him a chance to plan ahead.
Kear's side face Ireland in the European Championship in Wrexham on Sunday with the winners qualifying automatically for the 2021 World Cup.
But the losers will have to play further qualifiers in 2019.
"To qualify so early would be a definite boost for everybody involved in the game in Wales," Kear said.
"It would allow us to have next year as a preparation year for the World Cup rather than a qualifying year for the World Cup.
"I could start straight away planning three years in hand with regard identifying potential players, monitoring the players and working with them with the systems and structures for that.
"It just gives you a head start with your preparation. It would mean a massive amount.
"Yes it would be big and it would be important for us to get the right result on Sunday."
Wales lost 54-18 away to France in their opening game, but kept their hopes of World Cup qualification alive with a 50-12 win in Scotland last Friday.
Kear was pleased with his side's win in Galashiels, but acknowledged there were lessons to be learnt from the game.
"The primary lesson is we've got to start better because both France and Scotland got a lead on us," Kear added.
"We can't let that happen once again this coming week against Ireland.
"We've a lesson to learn, but we've got some confidence and self-belief that's grown from that performance.
"We answered any problems and we came through the other side with a composed, quality game of rugby league where we scored 50 unanswered points."
Kear named nine uncapped players in his original squad, which was without the services of St Helens pair Regan Grace and Morgan Knowles.
The head coach has been pleased with the emergence of so many young players during the campaign.
"This has been a great year for Wales because six have made their debuts during this campaign," Kear said.
"They've all contributed and I think we've unearthed some real gems not just for this year or next year, but for four, five years down the line as well.
"It's been a massive, massive boost for us as regard identifying talent who can play at the level."