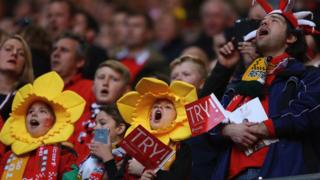 About 65,000 rugby fans will head to Cardiff's Principality Stadium on Saturday with a full city centre road closure from early afternoon.
Wales takes on Australia in the second November international, with kick-off at 17:20 GMT.
Roads will be closed from 13:45 to 20:15 GMT, with fans urged to get to the stadium early due to enhanced security checks.
It will be the second match where 4,000 seats make up an alcohol-free zone.
The trial is taking place after fans complained of drunkenness, rowdiness and some people constantly leaving their seats to buy alcohol throughout matches.
Gates at the stadium open at 14:20 and fans are advised to leave large bags at home.
"Everyone who comes through our turnstiles is searched and the process can create queues, which increase as kick-off approaches," said stadium manager Mark Williams.
"Queues outside will not delay kick-off and search procedures will be maintained, so the best way to ensure you are in your seats in time is to get in early."
As well as the city centre road closures, the M4 near Cardiff is expected to be busy.
Transport for Wales advised fans to use Queen Street station if they are travelling on valleys services after the match and central for mainline destinations, Ebbw Vale and Maesteg.
There are no planned engineering works in south Wales or on the line from London, but passengers travelling from the west of England via Bath or Bristol Temple Meads will need to get a replacement bus.
With extensive road closures and queues expected, Cardiff council also urged locals to consider using bikes for short journeys on Saturday.
It said research showed 52% of car trips in the capital were for journeys less than 3.1 miles (5km), a distance it believes can be cycled in 20 minutes.